How It Started vs. How It's Going: 25 Years of Transformation at Girls on the Run
The 25th Birthday virtual event is a celebration of how far Girls on the Run has come since its inception in 1996. From serving 13 girls in Charlotte, N.C., to serving more than 2 million girls across the nation now, the journey has been extraordinary! The lifelong, positive impact of our programs — on girls, coaches and everyone involved — is truly undeniable. Let's dive into then and now – how it started vs. how it's going!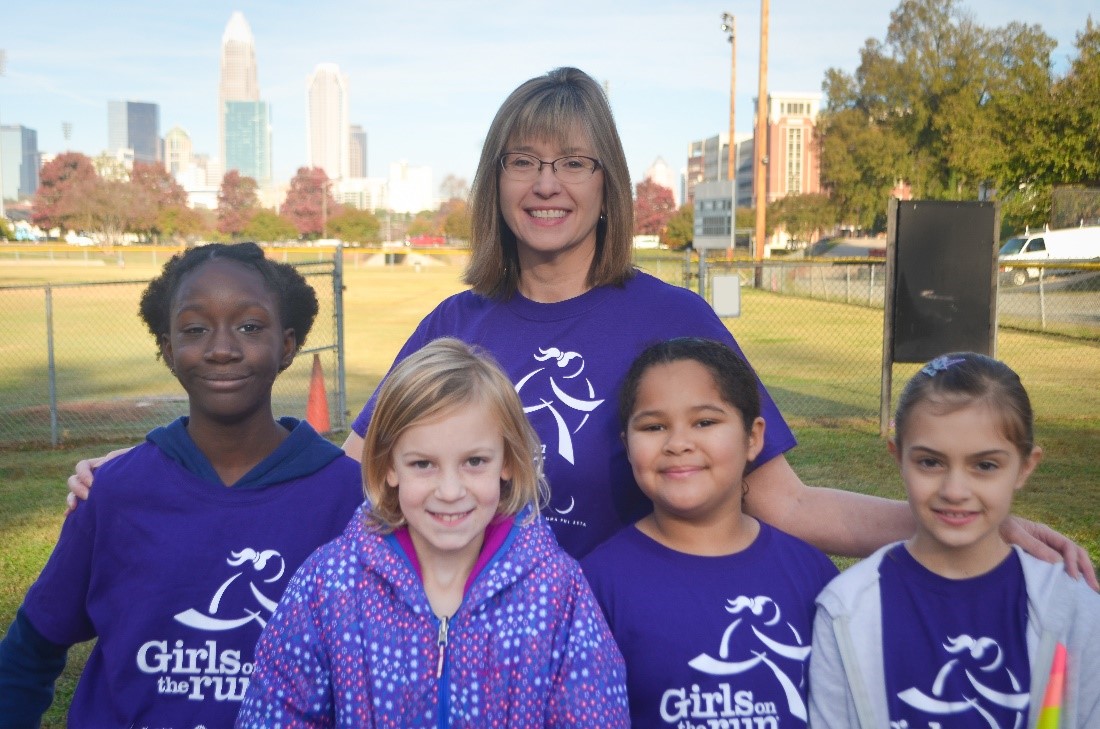 When Girls on the Run International CEO Elizabeth Kunz first learned about Girls on the Run, its mission profoundly resonated with her personal mission. She started volunteering in 2002, joined the staff as Chief Operating Officer in 2006, and has served as CEO since 2008.
"When I learned about Girls on the Run, I immediately volunteered," said Liz. "Many people are first drawn to the organization due to their love of running, but this was not the case for me. What touched my soul was the organization's commitment to inspiring girls to know and activate their limitless potential — I wanted to be part of that transformational experience! And now, 19 years later, I am so incredibly grateful to have had the opportunity to empower more than 2 million girls to be joyful, healthy and confident!"
Stepping back to think about "how it started" and evolved to become the nationally known and respected organization that it is today is inspiring. If you have been involved in Girls on the Run over the past 25 years, we hope these reflections make you proud to be part of such a powerful movement. If you have yet to get involved, we hope this inspires you to join us and be a part of the next 25 years!
How it started: Serving one school in Charlotte, N.C.
How it's going: A network of councils serving communities in all 50 states and Washington, D.C.
Our National Partners play a significant role in furthering the mission of the organization and ensuring that Girls on the Run programming is offered to girls from coast to coast.
What started at one school in Charlotte, N.C., has grown into a strong and thriving national network of councils. For a girl, this means that wherever she lives, the odds are good that she can participate in Girls on the Run. For former participants who no longer live in their hometowns, this means they can find opportunities to coach in the communities they moved to as adults.
How it started: Molly Barker met with 13 girls at the elementary school she once attended to teach life skills through running.
How it's going: A strong network of more than 100,000 volunteers across the United States bring our mission to life each year.
Girls on the Run programming is facilitated by kind and dedicated coaches who are trained to provide a safe, welcoming and inclusive space for all girls. Although coaches might differ in exactly why they are passionate about volunteering for Girls on the Run, they are united in their desire to support and encourage girls.
How it started: 1 program (Girls on the Run) with 1 curriculum total
How it's going: 3 programs (Girls on the Run, Heart & Sole and Camp GOTR) with 10 curricula total
Girls on the Run started out with one program serving 3rd–5th grade girls. Now, we offer three programs:
Girls on the Run for 3rd–5th grade girls, which builds confidence and other critical life skills through dynamic interactive lessons and physical activity.
Heart & Sole for 6th–8th grade girls, which emphasizes the whole girl by focusing on body, brain, heart, spirit, and how girls connect with each other.
Camp GOTR for rising 3rd–5th graders, a week-long camp experience where girls build friendships, explore their creativity and play games. To quote a participant of Camp GOTR: "I've never had fun like this before!"
How it started: The pride of crossing the finish line at her first GOTR 5K
How it's going: A life-long understanding of the confidence that comes from accomplishment
Crossing the finish line at a girl's first GOTR 5K is often a catalyst for having the confidence to set and achieve other goals. Former participant Callie Jane went from crossing the 5K finish line to crossing the half-marathon finish line — both times with her running buddy, her dad, by her side.
It is also an experience that impacts how she views the world around her. Callie Jane shared, "My experience at Girls on the Run taught me that the world is not as big as you think it is because there are people who care about you."
How it started: A school-based program site
How it's going: School-based sites, neighborhood spaces, community-based sites and virtual platforms
From schools to neighborhoods to community-based sites and more, Girls on the Run is committed to being innovative and flexible in order to meet the needs of all girls.
Celebrate the incredible transformation of Girls on the Run by attending our 25th Birthday virtual event! In addition to hearing from CEO Elizabeth Kunz herself, the celebration will feature a keynote address from Hoda Kotb, a panel of inspiring female trailblazers and more. RSVP today!
Love what you read? Sign up to receive our emails! Get tips, advice, inspiration and remarkable stories of women and girls fueling their limitless potential.