25 Quotes Inspired by Hoda Kotb
As we prepare for our 25th Birthday virtual event, we have been inspired by the work and words of Hoda Kotb — the co-anchor of NBC News' TODAY and co-host of TODAY with Hoda and Jenna — who is the keynote speaker for our celebration! In honor of her latest book, This Just Speaks to Me: Words to Live By Every Day, we are sharing 25 quotes (one for each year of Girls on the Run!) to uplift and motivate you.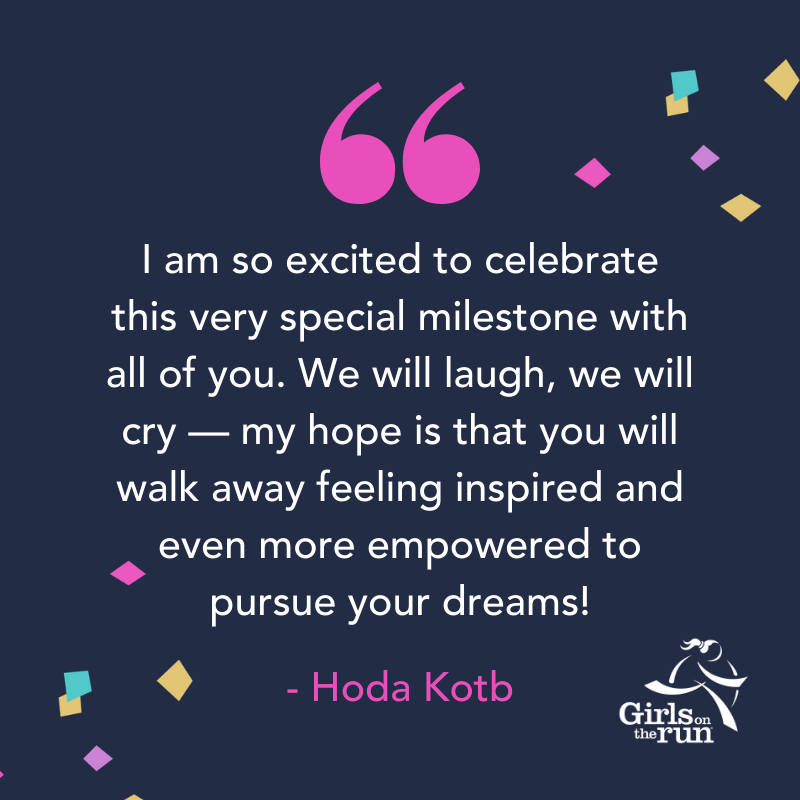 1. "Keep your face to the sunshine and you cannot see a shadow." – Helen Keller
2. "Life is tough, darling, but so are you." – Unknown
3. "I don't like to gamble. But if there is one thing I'm willing to bet on, it is myself." – Beyoncé
4. "Every day may not be good, but there is something good in every day." – Unknown
5. "One small crack does not mean you are broken; it means that you were put to the test and you didn't fall apart." – Linda Poindexter
6. "Stars can't shine without darkness." – Unknown
7. "She was unstoppable, not because she did not have failures or doubts, but because she continued on despite them." – Beau Taplin
8. "When everything feels like an uphill struggle, just think of the view from the top." – Unknown
9. "The struggles make you stronger, and the changes make you wise; happiness has its own way of taking its sweet time." – Gary Allen
10. "On particularly rough days when I'm sure I can't possibly endure, I like to remind myself that my track record for getting through bad days so far is 100%, and that's pretty good." – Unknown
11. "Sometimes, life doesn't want to give you what you want. It's not because you don't deserve it, but because you deserve more." – Unknown
12. "Let your smile change the world, but don't let the world change your smile." – Unknown
13. "You'll never know your strength until you face your struggles." – Unknown
14. "Never regret a day in your life: good days give happiness, bad days give experience, worst days gives lessons and best days give memories." – Unknown
15. "We must believe that we are gifted for something, and that this thing, at whatever cost, must be obtained." – Marie Curie
16. "The most effective way to do it is to do it." – Amelia Earhart
17. "Believe you can and you will." – Debasish Mridha
18. "Be soft. Do not let the world make you hard. Do not let pain make you hate. Do not let the bitterness steal your sweetness. Take pride that even though the rest of the world may disagree, you still believe it to be a beautiful place." – Iain Thomas
19. "If you're always trying to be normal, you will never know how amazing you can be." – Maya Angelou
20. "Flowers don't worry about how they're going to bloom. They just open up and turn toward the light and that makes them beautiful." – Jim Carrey
21. "Now and then it's good to pause in our pursuit of happiness and just be happy." – Guillaume Apollinaire
22. "Go into the world and do well. But more importantly, go into the world and do good." – Minor Myers, Jr.
23. "Whatever your mind can conceive and believe, it can achieve." – Napoleon Hill
24. In a world where you can be anything, be kind." – Unknown
25. "Don't let yesterday take up too much of today." – Will Rogers
Our 25th Birthday virtual event will be full of inspiration and joy, so be sure to RSVP today!
Love what you read? Sign up to receive our emails! Get tips, advice, inspiration
and remarkable stories of women and girls fueling their limitless potential.