Healthy Butterfingers by Samah Dada
In celebration of our 25th Birthday virtual event on March 25, recipe developer and wellness enthusiast Samah Dada created a snack that is healthy yet a little indulgent (healthy butterfingers!). Enjoy making these vegan and gluten-free butterfingers, naturally sweetened with dates and maple syrup. Plus, the combination of peanuts and cornflakes gives them a perfect crispy-crunchy balance.
RSVP to the 25th Birthday virtual celebration and make these healthy butterfingers to enjoy when you tune in!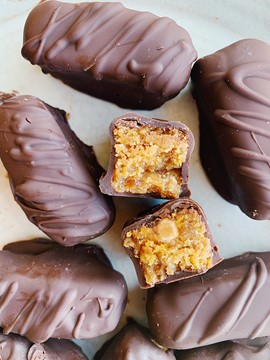 Gluten-Free and Vegan Healthy Butterfingers
Ingredients
3/4 cup creamy peanut butter (sub almond butter if allergic to peanuts)
1/4 cup salted, roasted peanuts — crushed (omit if allergic to peanuts)
3 tbsp maple syrup
2 cups gluten-free corn flakes (regular is fine, too, if you're not GF)
1 cup large Medjool dates, packed
Pinch salt
Chocolate coating
1 cup chocolate chips
3 tsp coconut oil
Steps:
Prepare a cookie sheet or plate by lining with parchment paper. Pit the dates and transfer them to a food processor or high-speed blender, along with the peanut butter, crushed peanuts, pinch of salt and maple syrup. Blend or process to combine completely. Remove the mixture from the blender to a large bowl and set aside.
In the same blender, add your corn flakes and pulse for a few seconds to combine. It should be mostly pulverized. Add the corn flake dust to your Butterfinger mixture. Mix to combine thoroughly.
Form the mixture into fingers, as large or as small as you'd like — I used a scant tablespoon for each. Transfer all of the fingers to the fridge for about 30 minutes or as long as overnight to firm up.
Melt the chocolate with the coconut oil in 15 second increments in the microwave, stirring throughout until it is smooth and glossy.
Remove the butterfingers from the fridge and coat each of them in the melted chocolate. Place back on the sheet. Once you've coated them all, transfer back to the fridge to firm for 30 minutes or up to overnight! Best stored in the fridge. Enjoy!
Samah Dada is an avid recipe developer, wellness enthusiast and food photographer. She uses her passion for cooking and baking to create unique, healthy, allergy-friendly yet still delicious meals and treats. She has made multiple appearances on the Today show and is now the host of NBC's digital show Cooking with Samah Dada. Follow her on Instagram @dadaeats or by going to https://dadaeats.com/
Love what you read? Sign up to receive our emails! Get tips, advice, inspiration and remarkable stories of women and girls fueling their limitless potential.