Looking for Meaningful Summer Activities for Your Girl?
If you're looking for meaningful summer activities for your girl, we have you covered! We've teamed up with our National Partner, adidas, to keep girls healthy and active this summer in between GOTR seasons. The adidas Summer Series is a three-part series that features engaging, inclusive and free content to harness the power of physical movement to nurture each girl's mind, body and spirit.
The first theme, Limitless, is available now! Check out the first installation of fun activities and motivating workouts videos designed to encourage movements, spark joy and strengthen confidence in girls ages 8-13.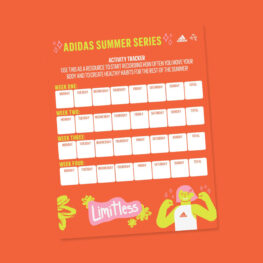 Our Limitless content underscores the power of the WHOLE girl. We believe that every girl is born with power and purpose and can break any barriers in her way. In this theme's activities, she will explore her inner strength and have fun while doing it! She will start with setting and tracking goals for the summer. Then, get her body moving with a strength-building work-out. Finally, cultivate joy, energy and motivation through an inspiring playlist!
Give the gift of a meaningful summer activity that inspires her to know her worth, find joy in movement and DREAM BIG! The adidas summer series is intentionally designed with the unique and expansive needs of girls in mind.
Bookmark this page and check back for parts two and three, launching later this summer!
Don't forget to use #adidasSummerSeries to show your GOTR spirit and celebrate your girl(s) accomplishments and fun through social media!