Women Who Wow Us: Betty Robinson
At just 16 years old, Betty Robinson won the first gold medal in a women's track and field event in the 1928 Olympics. In 1931, she was severely injured in a near-deadly plane crash but was able to recover and keep running. She then competed in the 1936 Olympics, where she won a gold medal again as a part of a relay team (women with whom she remained friends throughout her life).
Girls on the Run recently caught up with her granddaughter, Brook Doire, to talk about Betty's legacy and the way her story continues to inspire girls and women all over the world.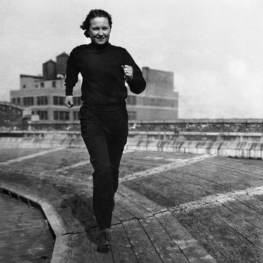 1. Are there any specific aspects of Betty's story that stand out to you?
Her perseverance is so important, as well as her fight for justice and fairness. Post-Olympics, after retiring from running, she spent a lot of time committed to traveling around the country and talking to people to change policy. She was very open-minded and seized a lot of opportunities that women may not have at the time. It's not just enough to accomplish something; you also need to take action beyond those accomplishments. She used her platform to inspire future athletes and lift others up. She embodied the idea that it's not always about the race — it's about the joy of doing something you love.
2. Why do you think it's so important to share Betty's story and stories similar to hers?
The more girls and adults understand our history and what people have accomplished and overcome, the more people believe it's possible for them to do it. If you can see it, you can do it.
3. What words or adjectives come to mind when you think of Betty?
Gratitude, joy, perseverance, curiosity, resilience and determination. After the plane crash, she said, "Of course I'm going to run again." She stayed on the positive side of the solution when there was a problem. She was resolute, goal-oriented, compassionate, empathetic and humble (you would not have known she was an Olympic medalist). Her day-to-day life speaks more to who she was than her medals and accomplishments.
4. How do you think Betty's story will inspire other girls to follow their dreams?
Her story will allow girls to engage in the conversation around what's possible, leading them to say, "What might be possible for me?" Betty saw the Olympics as a team event no matter what. She would want girls to know that they can accomplish things on their own, but also that having a team to support you is invaluable.
5. Which GOTR core values do you think Betty symbolizes?
"Express joy, optimism and gratitude through our words, thoughts and actions." She carried the torch of gratitude and never had a sense of entitlement about her accomplishments.
"Stand up for ourselves and others." Betty was a huge advocate for fairness. She wanted people's voices to be heard and lift up the voices of those who couldn't speak up for themselves.
"Recognize our power and responsibility to be intentional in our decision making." She was very intentional about who she chose to support her and who she surrounded herself with; she only kept people around her who believed in her. Especially now with media oversaturation, there are so many people telling you that you can't do something. We all have those days where even our own voice is a nonbeliever, so we have to recalibrate and connect gratitude to joy.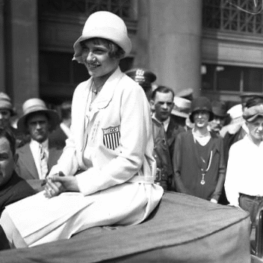 Thanks for taking the time to talk with us, Brook. Your grandmother's story is such an inspiration to us and all our GOTR girls!
In honor of International Day of the Girl, Girls on the Run is sharing this remarkable story about a woman who never gave up on her dreams. Do you have an inspiring story about a girl or woman in your life? We've teamed up with Say It Forward, who shares our belief that what you have to say matters. Submit your story now!
At Girls on the Run, girls are empowered to unleash their limitless potential and boldly pursue their dreams – just like Betty. Learn more about the impact of our program and register your girl for our upcoming program season by connecting with your local council today! Be sure to share this fun coloring sheet with your girl, too. 
Love what you read? Sign up to receive our emails! Get tips, advice, inspiration and remarkable stories of women and girls fueling their limitless potential.