Chocolate Chip Birthday Cake with Peanut Butter-Chocolate Frosting by Samah Dada
In celebration of our 25th Birthday virtual event, recipe developer and wellness enthusiast Samah Dada created a special gluten-free, dairy-free birthday cake. With peanut butter and chocolate, it is the perfect treat to make and enjoy when you tune-in to the event on March 25.
So, RSVP today and then make your shopping list for ingredients. The combination of a delicious cake (made at home by you!) and an evening filled with messages of inspiration is not to be missed!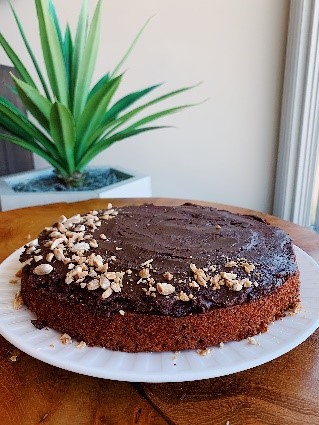 Girls on the Run Birthday Cake
Gluten-Free, Dairy-Free Chocolate Chip Birthday Cake with Peanut Butter-Chocolate Frosting
Cake
4 eggs (best at room temperature)
3 tbsp coconut oil, melted and cooled
1/4 cup coconut sugar
1/2 cup maple syrup (best at room temperature)
2 tsp vanilla extract
1 1/2 cups blanched almond flour
2 tbsp coconut flour
2 tsp baking powder
Pinch salt
3/4 cup chocolate chips (dairy-free if preferred)
Frosting
1 cup chocolate chips (dairy-free if preferred)
3 tsp coconut oil
1/3 cup creamy peanut butter
1/3 cup maple syrup
Instructions
Preheat your oven to 350 degrees and grease a 9-inch cake pan generously with coconut oil.
In a large bowl, whisk together the almond flour, coconut flour, baking powder and salt. Set the flour mixture aside.
In a medium bowl, beat the eggs. Add in the vanilla extract, followed by the melted and cooled coconut oil and the maple syrup. Mix everything together. Now, add the coconut sugar to the egg mixture and mix to combine.
Combine the wet and dry ingredients and mix until incorporated. Fold in the chocolate chips. Transfer the batter to your cake pan. Bake in the oven for 40-45 minutes until the top of the cake is golden brown and a toothpick inserted in the center comes out clean.
While the cake is cooling, make the frosting. First, melt the chocolate with the coconut oil in the microwave in 15-second increments, stirring throughout, until the chocolate is melted and glossy. Add in the creamy peanut butter and mix to incorporate. Finally add the maple syrup and mix until the frosting is stiff and spreadable. Frost the cooled cake using an offset spatula. Enjoy!
Samah Dada is an avid recipe developer, wellness enthusiast and food photographer. She uses her passion for cooking and baking to create unique, healthy, allergy-friendly yet still delicious meals and treats. She has made multiple appearances on the Today show and is now the host of NBC's digital show Cooking with Samah Dada. Follow her on Instagram @dadaeats or by going to https://dadaeats.com/
Love what you read? Sign up to receive our emails! Get tips, advice, inspiration and remarkable stories of women and girls fueling their limitless potential.