P.J. Salvage x GOTR: Making Dreams Happen
Have you heard the phrase, "if you can dream it, you can achieve it"? We think this is especially true with the right goal-setting tools!  At Girls on the Run, we believe that every girl is born with limitless potential and should be able to boldly pursue her dreams. Part of realizing dreams is setting goals.  
Today's girls are exposed to gender biases, societal obstacles and challenges that can be detrimental to their emotional and physical health. This also comes with inequity in the workplace and less female business owners. In conjunction with Women's Equality Day, we are excited to partner with P.J. Salvage—a California contemporary brand specializing in luxury essentials and the pursuit of a comfy, casual lifestyle—where a percentage of sales will go to their $10,000 pledge to Girls on the Run to further inspire girls to reach for their dreams. 
Next time you hear a girl say what they want to be when they grow up, believe her.  
When you hear her say she wants to create something new, inspire her. 
When she says she does not know how, affirm to her that she does and that she can! 
Here are some goal-setting tools to help you instill confidence while conquering inequities.  
P.J. Salvage is committed to gender equality and making dreams happen – and this is evident as three charitable collections supporting Girls on the Run are made in Certified Women-Owned factories! These women were once girls with a vision, and they boldly pursued their dreams.  
The Girls on the Run x P.J. Salvage embodies the want of feeling "cozy" in both literal and figurative ways – to support compassion, fairness, inclusivity and equitable opportunities for all women and girls. When you purchase a featured style from the collection, $1 will be donated to Girls on the Run. 
To learn more about the collaboration and to purchase a featured style, visit PJSalvage.com.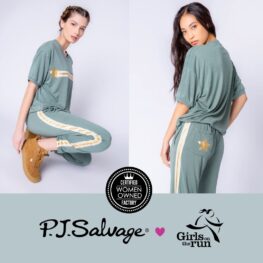 Love what you read? Sign up to receive our emails! Get tips, advice, inspiration and remarkable stories of women and girls fueling their limitless potential.