Nneka Ogwumike: Sports and Leadership
Did you know that participating in sports and cultivating confidence to be a leader go hand in hand? In fact, 54% of girls report increased leadership skills as one of the top benefits of playing sports. Sports help develop leadership skills such as team building, decision making, communication and discipline, among others.
Nneka Ogwumike — professional basketball player for the Los Angeles Sparks, adidas athlete, president of the WNBPA and one of the panelists at the Girls on the Run 25th Birthday virtual event — embodies what it means to be a role model. Her leadership on and off the court show GOTR girls the importance of using their voices in addition to staying physically active.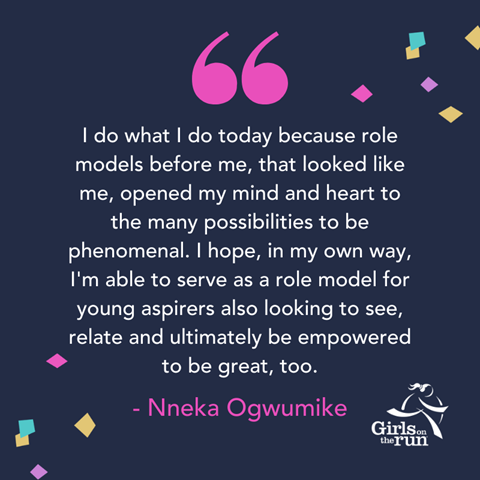 Girls on the Run helps girls grow in confidence and become leaders just like Nneka. Our programs have a proven impact on participants, with 97% of girls saying they learned critical life skills by participating. From increased physical activity to character development, GOTR girls experience life-changing positive effects! As GOTR girl Claire says, "Girls on the Run is all about being a leader instead of a follower."
Do you want to help foster leadership in girls while having lots of fun? Register to attend our 25th Birthday celebration! You'll get the chance to hear from Nneka and other inspiring women. RSVP today!
Love what you read? Sign up to receive our emails! Get tips, advice, inspiration and remarkable stories of women and girls fueling their limitless potential.