Why I Give to Girls on the Run
During each Girls on the Run season, girls are encouraged to think about what they're grateful for and share ideas about how they can express gratitude through their words, thoughts and actions. At Girls on the Run, we're grateful to have the support of passionate individuals whose investment in our program helps ensure that all girls have the opportunity to participate. Thanks to our generous donors, over 45% of the girls in our program receive scholarship support so that they can become a GOTR girl.
We asked our supporters to share why Girls on the Run holds a special place in their hearts:
"I support Girls on the Run because no one is left out! My daughter has special needs. The program helps build up my daughter's self-esteem. She is never left out and the girls are so supportive. We noticed a difference in her last year! We're so excited to participate in it again and we're also so grateful for this wonderful program."
"My daughter is a coach for Girls on the Run. She got involved because she works for Athleta. I thought that the benefit to the girls came strictly through the experience of running, but it is so much more than that. My interest was piqued from listening to my daughter talk about her experiences as a coach. She talks about how she works with the girls on how they interact, really listen and be kind to one another. It is a very deliberate and interactive process to empower these girls, and I think my daughter has gotten a lot out of being a coach. I decided it was something I wanted to support, so I set up a monthly donation."
"I support Girls on the Run because I love seeing the amazing positivity and empowerment it brings to my students. Many of my students face great obstacles in their young lives, and it is truly inspiring to watch each young lady grow in confidence."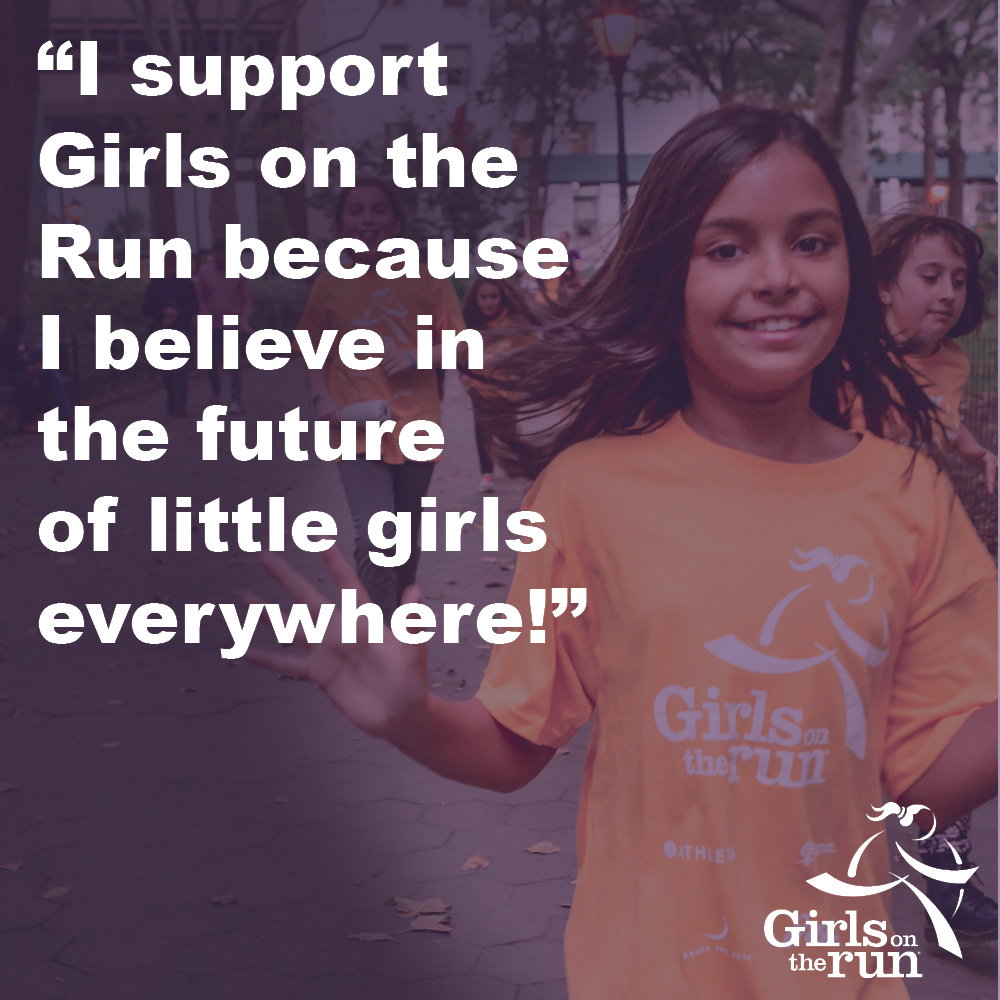 "I support Girls on the Run because every girl needs to know that they have a whole team of people supporting their every move. They need to feel safe, educated and respected for being whoever they are, as well as understanding how to deal with the people who try to make the environment around them otherwise."
By investing in Girls on the Run, you are investing in the life of a girl — an investment that will last a lifetime.  Your gift will give girls the opportunity to build their confidence, be a part of a team and achieve their goals. Click here to donate now!
Love what you read? Sign up to receive our emails! Get tips, advice, inspiration and remarkable stories of women and girls fueling their limitless potential.