Gamma Phi Beta: The Perfect Partnership
Gamma Phi Beta member Grace Hambourger just wrapped up her first season as a GOTR coach.
Girls on the Run has been an integral part of Grace's life. Grace was first introduced to the organization in 2009 when she participated as a fourth grader.
Gamma Phi Beta partnered with Girls on the Run in 2012, so it's serendipitous that she joined the organization only three years before it became her future sorority's philanthropic partner.
During the first night of recruitment, Grace felt pulled to Gamma Phi Beta. She recognized the women of Theta Chapter at the University of Denver were, as she says, "not all talk, but they walked the walk." Leadership, encouragement, support, campus involvement, service — all the Gamma Phis she spoke to possessed the qualities Grace was looking for in a community. Finding out how intertwined Gamma Phi Beta was with Girls on the Run was the cherry on top.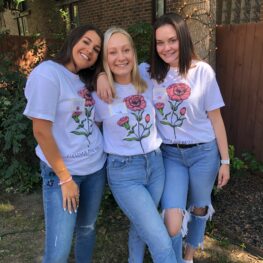 "Building Strong Girls is not a pamphlet on how to be a strong woman. It is the real-life experiences of making mistakes, learning to accept yourself and others, and building other girls, women and people up."
"The student has become the master" applies perfectly to Grace, as she is now a coach for GOTR of the Rockies in Denver, Colorado. Despite the mid-season change due to COVID-19, Grace was surprised to see how positive and energetic the girls remained.
Grace leads her team through compassion. She uses her own personal experiences to connect with each GOTR girl, creating a comfortable space for vulnerability, growth and celebration.
This is one example of why the partnership between Gamma Phi Beta and Girls on the Run is a perfect fit. Together, we are building strong girls who become strong women!
More about Grace's story will be shared in an upcoming issue of Gamma Phi Beta's official magazine. Check it out later this summer by clicking here.
Love what you read? Sign up to receive our emails! Get tips, advice, inspiration and remarkable stories of women and girls fueling their limitless potential.