Best of Dream it. Do it. Be it. – Moments We'll Never Forget
Wow! Are you still feeling the inspirational effects of our Dream it. Do it. Be it. virtual event? We are still riding high and uplifted by the unforgettable evening and its incredible guests. As promised, our speakers reassured us that no dream is too big and that together, through commitment and conviction, anything is possible. It truly was a night filled with words that will motivate us for years to come. 
In case you were unable to join us (or you simply want to re-live the glorious evening) we compiled a list of our favorite moments from Dream it. Do it. Be it.! Check them out below and experience the magic all over again:
A joyful video to kick the night off
Filled with gorgeous colors, fun animations and footage of GOTR girls and coaches, this introductory video set the tone for the rest of the evening – you belong, you are worthy and you can achieve any goal!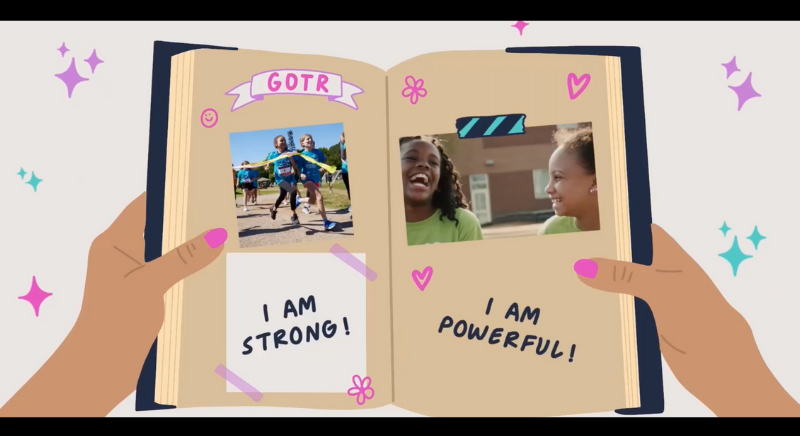 The warmest of welcomes from our phenomenal leader, Elizabeth Kunz
When it comes to providing a warm welcome and contagious, fun, energy, we can ALWAYS count on Liz. We are lucky to have a leader like her and appreciate how she opened the door, greeted us with a smile and reminded us all of the Star Power within us.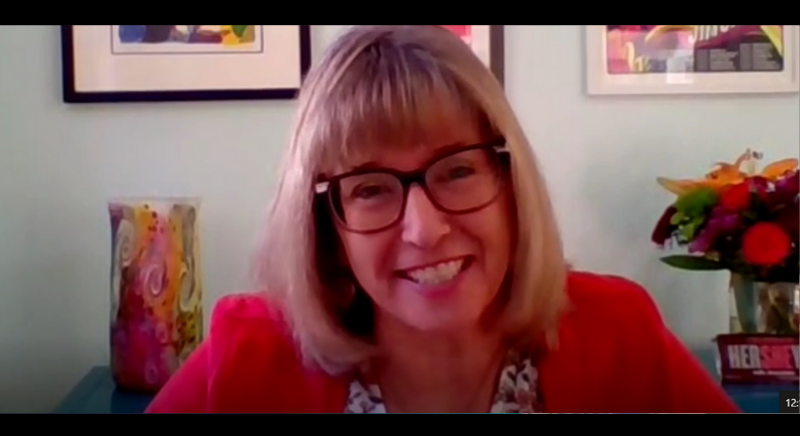 A GOAT that is, frankly, the G.O.A.T.
Who knew a graphic of a goat could get us THIS excited? The empowering message behind Liz's sentiment — and the goat herself — was a powerful one that stuck with us the whole night.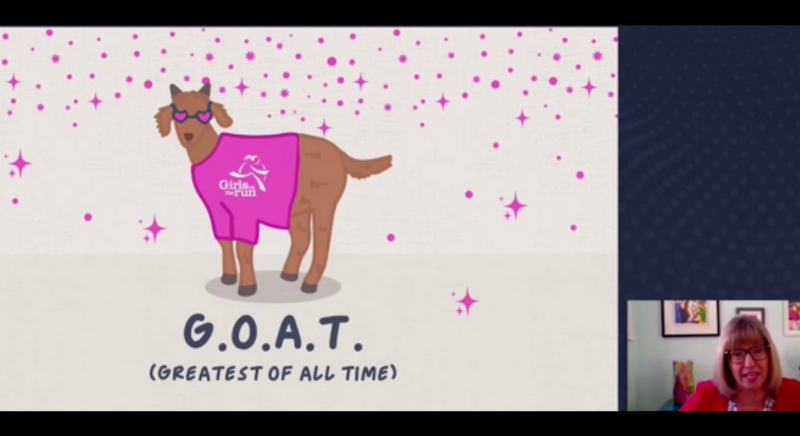 Learning the first-hand impact of Girls on the Run with Sabrina, Lana and Liz
GOTR coach and parent Sabrina Lu spoke with Liz about her daughter Lana's experience in Heart & Sole and the transformative impact it had on her life. Lana, who is nonverbal and speaks through a text-card, proudly told Liz how much she enjoyed working with the coaches and how Girls on the Run is playing a major role in her goal of becoming an independent young woman.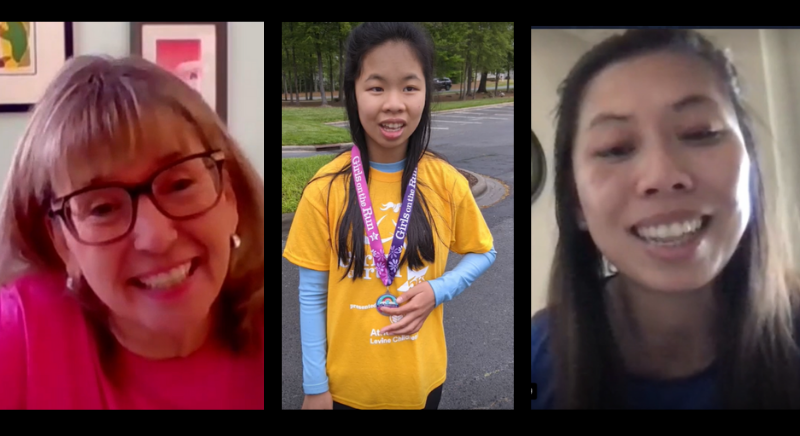 Three girl stories that prove Girls on the Run inspires tomorrow's changemakers
Taylor Richardson teaches all girls that they are seen, they matter and they are powerful 
Taylor Richardson's spark is one bright enough to be seen from space itself. Never afraid to follow her dreams, Taylor used her GOTR experiences to show other girls that they are capable of anything and forces to be reckoned with. After seeing the film 'Hidden Figures' in 2017, Taylor created a fundraising campaign (which was endorsed by Oprah and recognized by The White House) for thousands of girls across the nation to attend screenings of the film. She now continues her philanthropy efforts to connect more girls to the wonderful world of STEM and is on her way to fulfilling her goal of becoming an astronaut or doctor.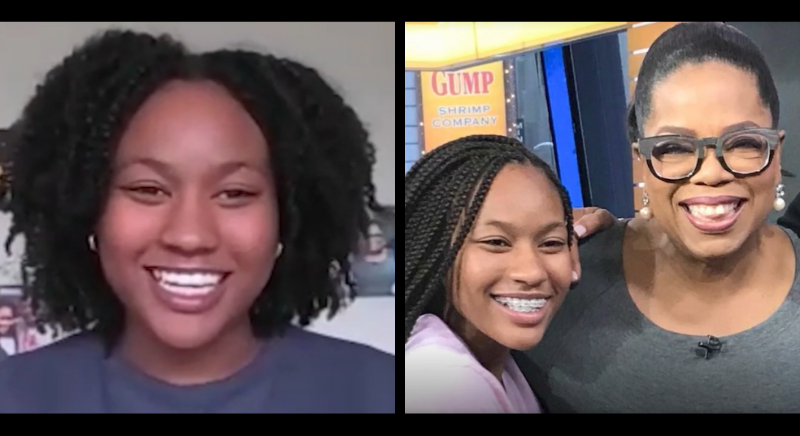 Addyson Moffitt's mission to connect youth around the globe to clean water
Running for change has been at the center of Addyson Moffit's since she was seven years old. Through her marathon fundraising efforts over the past five years, Addyson has raised more than $170,000 — providing clean water to over 3,400 kids in Africa for their entire life. Girls on the Run taught Addyson the value of using your Star Power to look outside of yourself and make the world a more equitable and inclusive place for all. And now, with confidence, she is changing lives across the globe.

Halley Vincent changes the lives of animals and people across Kansas City
Halley's story struck a major chord with everyone, particularly our book and animal lovers! Since joining Girls on the Run, Halley has transformed her community in two unique ways – starting her 'Paws Up KC' non-profit that connects animals to resources and her bookmobile that supports literacy efforts in her neighborhood. Tying both efforts together, Halley also helps out at a local shelter where she reads to animals to help socialize them in preparation for their forever home.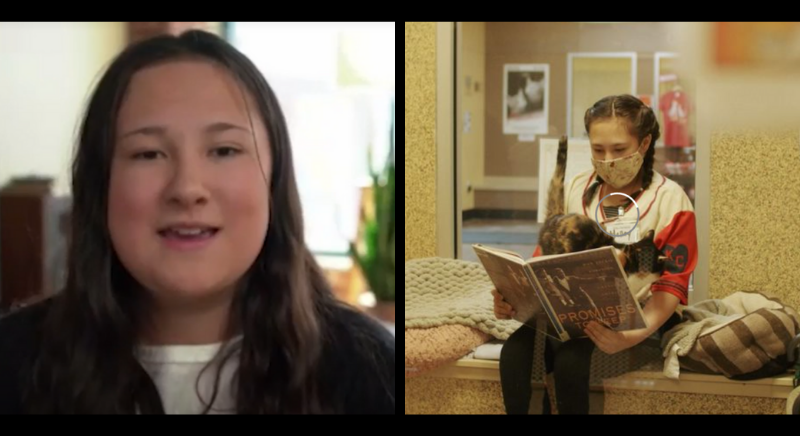 That heart-warming 'Dear Simone…" video compilation (plus Simone's heartfelt reaction)
Our reactions to the 'Dear Simone' video were not far off from Simone's herself…Meaning, yes, we were also tearing up in between smiles. Hearing how Simone inspired each of these girls was moving and an excellent reminder of the importance of positive role models.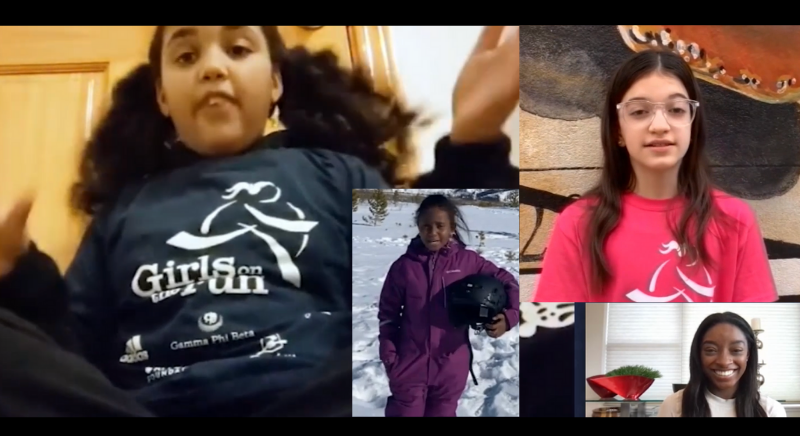 The moment we've all been waiting for: words of wisdom from the one and only, Simone Biles
Where do we even begin with this discussion? Simone's positivity, grace and warmth radiated during this conversation. Her words were impactful, and her sentiment was genuine – listening to her felt like hearing from one of our most encouraging friends. As demonstrated with the overflowing amount of love in the chat, every viewer was moved by Simone's presence, which was beautifully supported by long-time GOTR coach Ciara Lucas.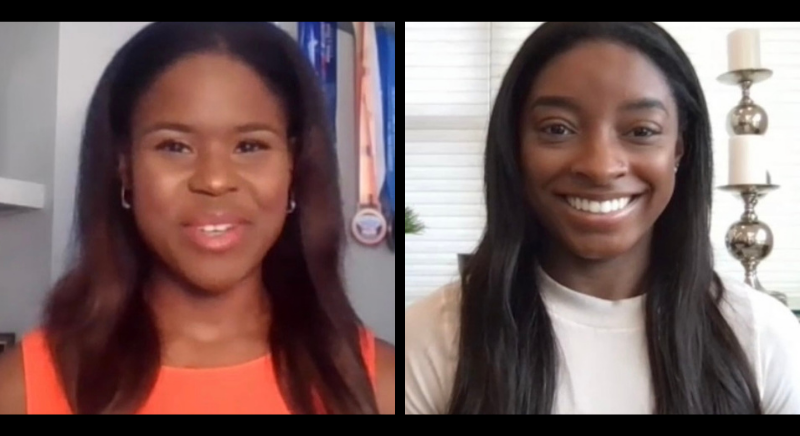 A goosebump-inciting performance by Sara Bareilles that had us crying all the happy tears
The inherent talent and boundless joy of Sara Bareilles is undeniable. Her smile is as infectious as her melodies. Yes, the lyrics alone to 'Brave' are enough to make us cry, but it was Sara's passion, energy and sincere love of what she does, that got us feeling ALL the emotions. Weeks later and we are STILL humming the tune of 'Brave'.

One last thing

–

surprise closing message from Simone
Just when we thought our hearts could not be fuller, who else but Simone Biles comes back to bring the night to a close! This awesome surprise was the ultimate way to wrap up the event and send us with a strong and empowering final message to Girls on the Run supporters everywhere: "Together we can ensure every girl has the power to bravely and boldly celebrate who she is and what she wants. Keep dreaming!"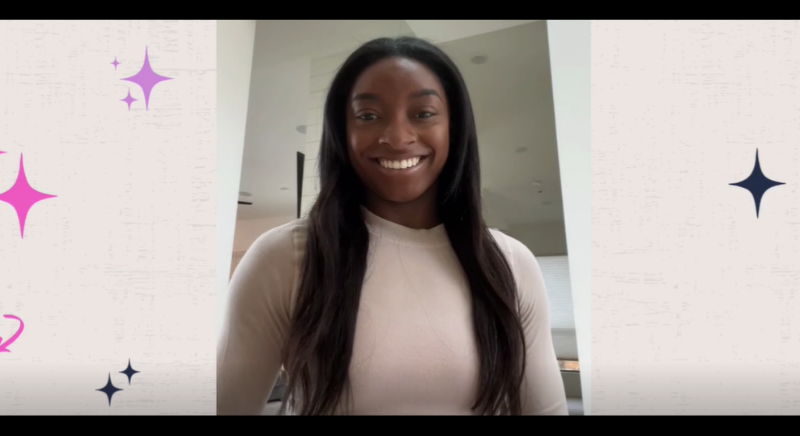 Thank you again to all who hosted watch parties and joined us for a magical evening! We loved seeing you come together to celebrate the dreams of women and girls everywhere. We also want to give a special thank you to everyone who opened their hearts and donated during the event. It's never too late to make a gift and change a girl's life. Donate here!