National Hispanic Heritage Month – Lisa's Experience
Every year, National Hispanic Heritage Month places a spotlight on the Hispanic and Latinx experience and its invaluable contribution to society. Since the holiday's inception in 1968, it has given people across the country the opportunity to celebrate these cultures and dive deeper into their historical impact.
Today, we are delighted to share a recent conversation we had with Lisa Keller, manager of employee experience at Girls on the Run HQ. A proud Puerto Rican-American woman known for her joyful demeanor, Lisa uses her upbeat spirit to support GOTR HQ staff members, guide them on their careers and provide encouragement throughout the process.
Get to know Lisa and what National Hispanic Heritage Month means to her, in the conversation below.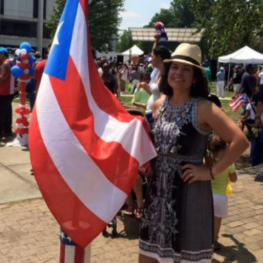 What do you love about being Hispanic (and other Latin cultures)?
"There are so many reasons why I love my beautiful Hispanic culture and all Latin cultures. From the diverse food choices, music, languages and traditions – I simply cannot pick one aspect that I enjoy the most.
My love for being Hispanic has always been with me since I was a little girl.
I'm thankful for my Hispanic roots for demonstrating how to love who I am, where I come from and how to love others unconditionally."
What are some special memories growing up?
"Growing up in New York City, our family always gathered and celebrated with each other. Family has forever been the number one priority in my life.
Whether I was at a birthday party, wedding or a day at Orchard Beach in the Bronx, I always had a blast with my loved ones.
All of my fondest childhood memories included eating a homecooked meal and dancing until my feet hurt. To this day, our parties still never disappoint!"
How does your Hispanic experience benefit you at work?
"At Girls on the Run HQ, I work on the HR & Belonging team as the employee experience manager to ensure all staff members feel welcome on the team.
I bring my love of family into my work, as I see my co-workers as part of my extended family. I strive to create and establish a personal connection with every team member. I'm eager to see them succeed (just like a proud mom) because as I am their biggest fan!
Salud!"
Parents, families and friends looking to learn more about our commitment to ensuring all cultures, heritages, races and backgrounds are celebrated in the lives of girls should visit our IDEA (Inclusion, Diversity, Equity and Access) page!