Open the Door to Future GOTR Girls
Giving Tuesday may just have started but we are already feeling grateful. Marking the kick-off of the giving season, Giving Tuesday provides us a chance to tell our girls' stories and inspire others to make a difference. Since 2012, Giving Tuesday has been a critical tool for nonprofits across the globe, including Girls on the Run. When you make a gift to Girls on the Run, you open a life-changing door to future GOTR girls in your community. It's a door that leads to a new reality that is filled with meaning, empathy and motivation. Your gift gives her all that she requires to become a leader of tomorrow – someone who leads with compassion and bravery.
The boost she needs during her most formative years starts with your generosity. 
Hear from a few former GOTR girls about why this program helped make them the strong, young women they are today. 
Quinn and Shivani's story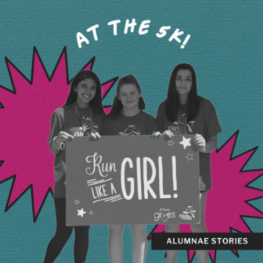 The Girls on the Run impact does not conclude at the finish line. For many girls, it not only inspires them to become more understanding to those around them but to give back later in life. This was the case for former GOTR participants, Quinn and Shivani. Girls on the Run was such a transformational experience for Quinn and Shivani as participants that when they entered high school they signed up as Junior Coaches. Their first coaching season was much different than they had expected though, as it occurred during the peak of the COVID-19 pandemic. Little did they know that this was exactly when the girls needed them most. 
The girls on their team were struggling with loneliness and isolation – feeling disconnected, anxious and down. As new coaches, Quinn and Shivani were not aware of the impact that their words and actions would have on these girls. The duo quickly learned that Girls on the Run was the highlight in the girls' lives during this challenging time. The lessons, and their support, helped participants find their joy, connect with others, build resiliency and learn coping strategies. Quinn and Shivani also personally benefitted from this new perspective. They said, "Being a coach is so much more than inspiring and empowering young girls – it's also an opportunity to grow as an individual. Realizing our impact on these girls has been the catalyst to the drastic changes in our own mindsets and outlook on life." 
Finley's story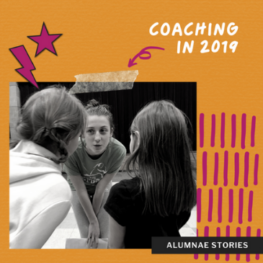 A second example of the power of Girls on the Run comes in former participant, Finley. Prior to dipping her toes into the Girls on the Run program, Finley often found herself second-guessing her purpose. Her self-confidence was low and she had difficulty making connections. She regularly found herself falling into negative self-talk traps. In her head, she would hear, "I am not good enough to be here." "It's no wonder people don't like me." "She is so much smarter and more successful than I'll ever be." 
Fortunately, this broken record stopped the minute Girls on the Run stepped in. Through the mentorship and lessons taught at Girls on the Run, she discovered the tools she needed to build relationships, inner strength and a positive mindset. The negative mental chatter transformed into uplifting messages like, "I am wonderful, I am amazing, and I am worthy." After this experience, Finley was eager to share this light with everyone in her life. In fact, she was so inspired that she dedicated her salutatorian address at her high school graduation ceremony to Girls on the Run. She shared that through the program she learned that "we need to help each other realize how special we are and how precious our self-worth is." 
Help create future success stories
Between Quinn and Shivani's commitment to the next generation and Finley's desire to share her spark with her peers and their families, it is clear to see that the Girls on the Run mission is one for the long term. With these experiences under their belts, these three young women are entering adulthood with open hearts and open minds. Today, you have the chance to give a girl this same life-altering opportunity. The time to open this door is now.  
Help create pathways to confidence and connection for future GOTR girls by making a contribution here.